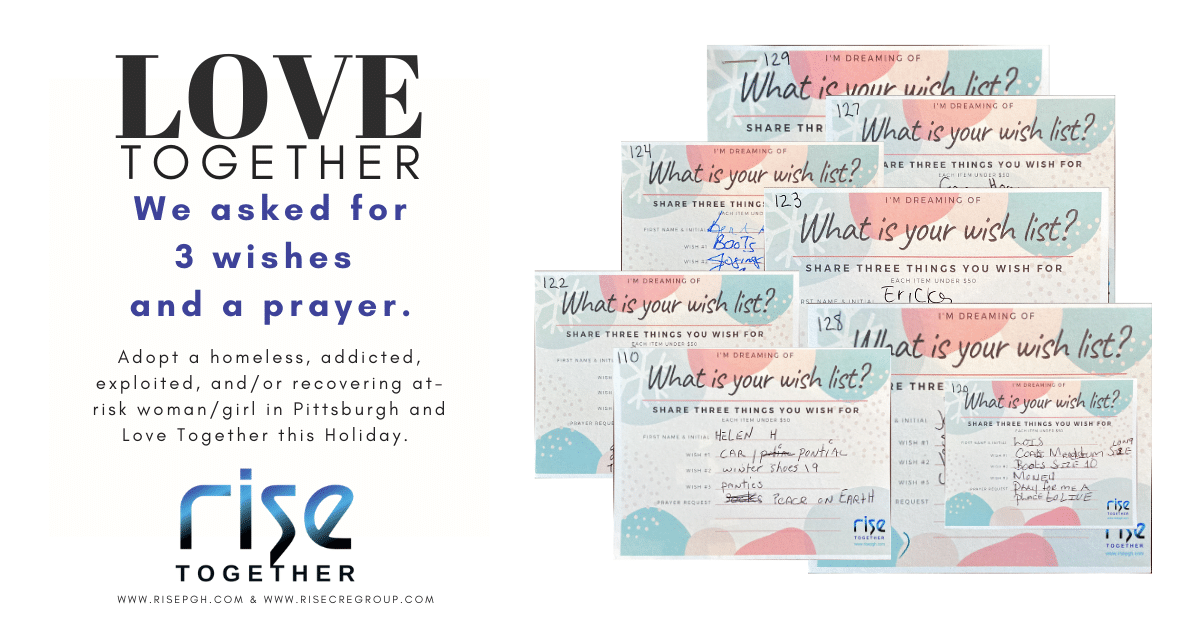 I'd like to introduce you to the Love Together Community Outreach Holiday Campaign for 2020. We asked the homeless, addicted, exploited, and/or recovering at-risk women and children we serve on second Saturdays in Homewood with Living in Liberty to write down 3 wishes and a prayer on a card for this holiday. We have 29 cards so far. We suggested the wishes be under $50 each. Our goal is to match each one of these cards with a person/family that is willing to make at least one of the wishes come true.
Each gift should NOT be wrapped, just placed in a bag. Please include a card. Please pray for them. If you'd like to make a quick video saying hello or saying the prayer we would love to collect those video's and make a video for them. Many of these women are living on the streets or abandoned buildings. Many of them are asking for the basic things we take for granted every single day like underwear, or a coat. One woman asked for a tent because she doesn't have a place to go. For those of you who have met many of these ladies, you know how appreciative they are just to have a safe place to go and a warm meal on Saturdays.
For more information on our Love Together Community Outreach Holiday Campaign you can join our Facebook Group. Gifts can be dropped off any time on the front porch of Rise Pittsburgh at 347 Northgate Drive Warrendale PA 15086 or we can make arrangements to pick them up. Someone is normally around during business hours or they can be left outside. If you'd like to Love Together this year, please let us know. If you'd like to recruit others, please ask them to commit and then let us know how many cards you have confirmed. Thank you!!!!
To learn more about Rise Together and our Community Outreach visit our site.