What does the future of work actually look like? Have you returned to work? What are other businesses doing? There's so much chaos, it feels like we're all in the Titanic scene after the iceberg strikes. The ship is sinking, and everyone is doing what they can to survive. Well, we have a spot on the lifeboat for you. Thanks to our evolve video series and podcast, we've gathered advice straight from the source to help us all navigate the future of work. We are navigating the future of work.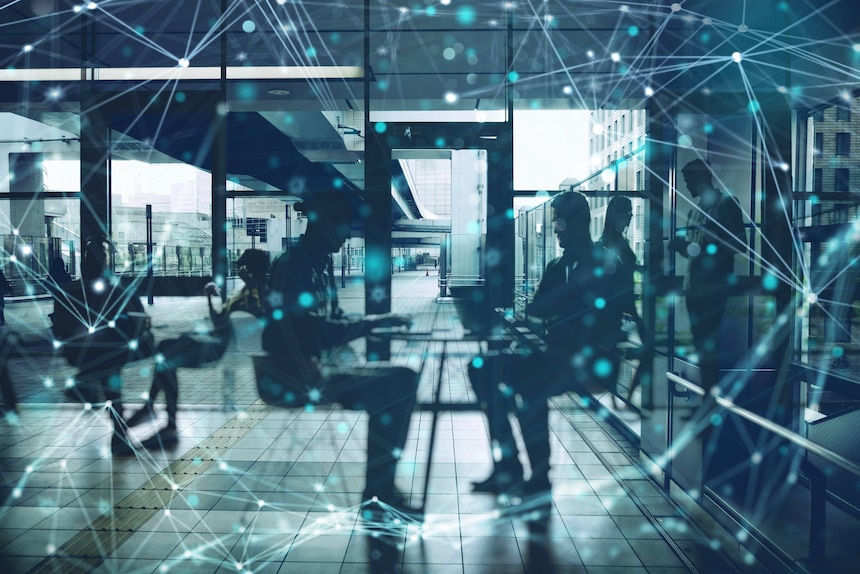 We asked over twenty-five executives how the pandemic has affected them, what pivots they've had to make, and what advice they have for other business leaders. Lucky for you, we've taken the responses from all our incredible guests and put together the most relevant themes and topics about what we believe next looks like.
Being intentional about listening to employees and customers is the number one response almost every leader advised. Understanding the needs of employees will help build culture, retain talent, and increase staff engagement. When people are heard and understood it opens doors for new solutions and transparency. Taking the time to hear out customers and clients is also critical to success both now and in a post-pandemic world. Jim Gibbs from Meter Feeder was spot on when he said, "your customers will tell you exactly what they need." Listening is a simple yet powerful business tactic. The responses from end-users can lead to anything from a change in process to launching a completely new product or service. Meter Feeder capitalized on feedback after hearing how fleet vehicles were receiving over a million dollars in parking tickets alone due to the increase in deliveries during the pandemic. This led to an entirely new product line catering exclusively to an untapped market segment. Listening to employees and customers may just create the best change possible for your business.
Hybrid work and flexibility were also among the top responses for navigating the future of work. Alex Lange from Forbes Global Properties believes "the hybrid model will be the standard forevermore and we will never go back to how it used to be." Even some of the most traditional leaders that were once against remote working have now accepted the positive impact it can make. Thanks to recent technology advancements in collaboration and digital meeting software, working from anywhere is more convenient than ever before. Top talent is very aware of this convenience meaning flexible models can be a great recruiting tool.
Flexibility not only applies to in-person and remote work policy, but also the ability to adapt. Businesses need to be fluid and able to pivot when circumstances change. If there's one thing, we do know for sure it's that change is a matter of when, not if. As Patrick Paul, Co-Founder of Ikos would say, "listen to your team and be prepared to role with the punches."
We mentioned that flexibility can be a recruiting tool for a really good reason. Did you know about 50% of corporate employees left their job in April when companies wanted to bring them back to the office? Flexible work is a hot topic because it's critical to recruiting and retaining top talent. Employees want to be able to fit work around their life instead of their life around work.
The work-from-home movement has also created opportunity for businesses to expand their talent pool nationally and internationally. Marion Lewis, CEO of Govenda, said "going remote was the best thing that ever happened to us." She found success in expanding her talent pool which allowed her workforce to double during the pandemic and she expects it to double again.
Another major component of the talent war is providing an environment people want to be, not have to be. If an in-person workforce is the best option for your business, you must create an attractive space with amenities. Companies like Google figured out a long time ago the value of a great work environment. A fancy coffee machine, outdoor space, meal service, or fitness center might be the deciding factor for someone to work at your company instead of a competitor.
Knowing isn't doing. Have you ever had an invention idea and then years later someone else is making millions from it? You probably thought if you could have only seized the opportunity when you had the chance. Leaders in our evolve series have expressed time and time again how important it is to always be looking for new ways to grow your business. Many businesses have been negatively affected by covid-19, but those who capitalized on new opportunity during the pandemic thrived and are stronger. Leaders like David Primm, COO of 412 Food Rescue, made a major pivot by offering a new food delivery service. Because of their ability to adapt to new circumstances they have a more effective way to serve the Pittsburgh community now and in the future. With new opportunity come new risk, but hey no pain, no gain.
Trust is a cornerstone – without it, businesses would crumble. No matter what level position in a company, everyone experiences some level of fear or doubt. Trusting yourself and employees was a reoccurring theme we've heard from our evolve leaders all over the country. The work-from-home movement and pandemic has forced many outside their comfort zone and into uncharted territory. Have confidence, trust your gut, and don't be afraid to make tough decisions, because you have the ability to do the job you were hired for. These are tough times that require strong leaders. There's no better time than now to dig deeper, chase opportunity, and trust your instincts.
About evolve | Leadership Evolution
No one knows for sure what the future of work looks like. Our evolve video series and podcast creates community around what's next by featuring fresh perspectives from business leaders around the country. We believe hearing these stories straight from the source is the best way navigate these unprecedented times. Learn, connect, and grow as we all evolve together. YouTube | Apple | Spotify | Google