I remember like it was yesterday, I was in my 2nd year as President of our newly formed CREW Chapter (2003) and we were having our annual charity board meeting. Every year we selected a charity that was focused on women and/or girls. This particular year we decided to help local women undergoing cancer treatment. We weren't sure exactly how to make a difference but with this team of amazing women anything was possible. Furthermore, at the time, my mom was fighting her own battle with breast cancer and I knew first hand the impact the disease was having on her.
We named the program CREW New You and reached out to the American Cancer Society (ACS) to find out how we could better support them through the Look Good, Feel Better program. As we learned what women newly diagnosed with cancer were going through, we began to consider what might provide comfort to them at this early stage of their treatment. We assembled our first satchels, which included a turban and support literature, and that year we gave out 200 Satchels to women participating in the American Cancer Society's Program.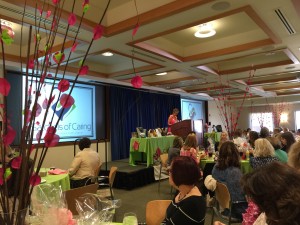 Today the program is now its own 501c3 non-profit organization and has been renamed Satchels of Caring. The program continues to grow and just this year provided over 1,200 satchels to women all over the Greater Pittsburgh region and over 10,000 satchels since its inception. We were very happy to be a table sponsor at this years Bags Bellinis & Brunch luncheon to help raise money for the program. Our table was filled with many great friends and the room many amazing women.
The Rise Pittsburgh Viewpoint is a quarterly review of the overall commercial real estate market in Pittsburgh and the surrounding area. Don't miss out on any Rise news, updates, or opportunities. Join our Email List. If you have any questions, or want to schedule a one-on-one meeting to review your space needs, please click HERE. We are here to help you navigate the ever changing world of commercial real estate!
Anyone can help you "find space". Rise Pittsburgh uses proprietary technology to transform how future-focused companies discover the perfect workplace. As independent workspace advisors, we elver objective knowledge and customized solutions to connect the loop between talent, culture, and space. Through technology, complete transparency, and passionate client advocacy, we are disruption the traditional real estate model, delivering solution-focused workplace strategies.