Nothing gives me greater joy than helping someone in need. If I ever have the opportunity to make a difference in someone's life (no matter how small) I am always grateful for the opportunity. This years holiday project with Hosanna Industries was an amazing experience for not only our office but my children and some of their friends. For the past two years, we participated in the Festival of Trees event and donated two trees that we decorated to be auctioned off to benefit Hosanna's charity programs.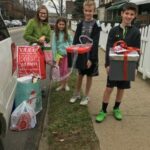 This December, we also volunteered to deliver gifts to families in need. We filled our SUV with bags of food and gifts then received our directions from Hosanna's amazing team led by Amanda Becker. I picked up my youngest son and his friend as well as both of my daughters and we followed the app Waze to an address in Homewood. This beautiful family was waiting for us at the door and welcomed all of us into their home. They were very grateful for each and every gift they received as we filled the bottom of their tree with all of the wrapped presents. The next day, my oldest daughter and her friend helped deliver gifts to a woman in Garfield. She welcomed us with open arms and we spent time getting to know her. She spoke endlessly about how Hosanna Industries continues to bless her and just recently helped her with a plumbing problem and a new furnace. It is truly a blessing to serve this organization and families in our community.
[hr]
<br>

Hosanna Industries, is a Pittsburgh based non-profit who's mission includes new construction and repair/rehabilitation services for low income homeowners; leading volunteers in disaster recovery; and training young people in the trade skills to give them a hope for the future.
http://hosannaindustries.org